EurOcean conference
The EurOcean conference is a major European marine science policy gathering providing a forum for policymakers and strategic planners at European and national level, to interact with the marine research community and marine and maritime stakeholders.
Why did we go there?!
Well, on top of our mission to provide 10 million people with clean safe water in 10 years, we also really care about our oceans… in fact two of our employees are marine biologists.
The water that we drink and use in our daily lives to wash, water our plants and drink is also the water that ends up in rivers and eventually into the sea. This interconnection between all our water systems stimulated the formation of the GOES Foundation, a project of Clean Water Wave's, to raise awareness of oceanic health. GOES does this by educating and running outreach programmes, advocating, and organising oceanic sampling using ocean sailors. These ocean-going sailors are the heart of our research community, as they are out on the seas and can do a huge amount of citizen science on our behalf!
So, what did we learn at the EurOCEAN 2019?
This year is the start of the implementation planning of the United Nations Decade of Ocean Science for Sustainable Development. 2019 sees the release of the 'Navigating the Future V, Marine Science for a Sustainable Future', an important research piece that aims to bridge the gap between science and policy in order to meet future marine science challenges and opportunities.
The themes discussed were:
Sustainable marine resources,
Land perspectives for healthy oceans,
Oceans and human health,
Bringing sea basin communities together, and
National perspectives for marine science contribution to Sustainable Development Goals.
The topics that sparked our interest most were 'the land perspective for a healthy ocean' and 'ocean and human health'.
Land Perspective: lots of talk about plastic impact on oceans
The talks here had a heavy focus on plastic pollution. In particular, there was a lot of discussion about how we need to integrate social science and behavioural science to help raise awareness of the extend of the problem.
…but not much talk about hidden pollutants in our oceans
As we've seen, the action taken by companies over banning plastic bags and reducing plastic wrapping is a great starting point. But we still haven't addressed hidden pollutants such as pharmaceuticals.
It is only recently that oxybenzone in sunscreen has come to light in the media as a danger to oceanic health, and it is a similar story with the impact of certain cosmetics. One PhD presentation had looked at how anti-cancer drugs were reaching the marine environment through waste-water treatment plants. You can check out the research by Tainá Fonseca.
Oceans & human health
The research presented for this section was more around the success stories for mental health. There was some fascinating research showing the links between recreational time spent near oceans and mental and physical health. It was stressed that it is often middle- and high-income people that can accrue these benefits, and that more emphasis should be placed on providing recreational areas for low-income earners to get the same benefits.
Not all good news
However, it wasn't all positive: unhealthy oceans have negative impact on human health. The First World Ocean Assessment provides the evidence of just how seriously degraded our oceans are.
The Ocean Assessment shows:
Many parts of the ocean have been seriously degraded.
Man-made threats derived from problems such as input of hazardous substances, waterborne pathogens and nutrients.
The need for controlling solid waste disposal that can reach and affect the marine environment
It is estimated that every person on earth has just one fifth of a cubic kilometre of ocean as our portion to provide us with all the services that we get from the ocean. This one fifth also suffers from the sewage, garbage, spilled oil and industrial waste which we collectively allow to go into the ocean every day! By the year 2050, it is estimated that there will be 10 billion people on Earth. Our portion, or our children's portion, of the ocean will than have shrunk to one eighth of a cubic kilometre. That reduced portion will still have to provide each of us with oxygen, food and water, while still suffering from the pollution and waste that we allow to enter the ocean.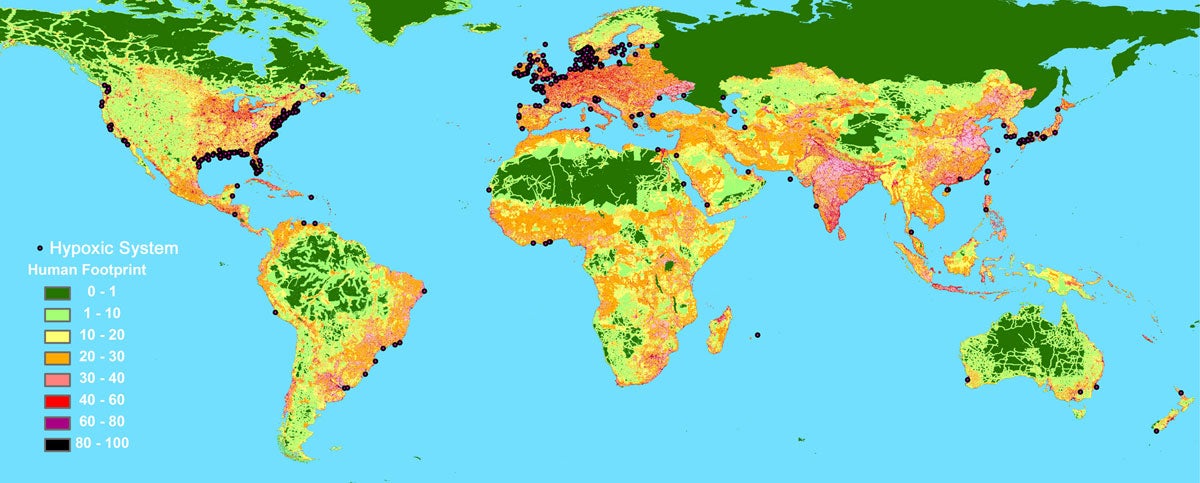 Global map of Dead and Hypoxic Zones. Source: https://static.scientificamerican.com/sciam/assets/media/inline/2008-08-15_bigMap.jpg
The full report can be found here: https://www.worldoceanassessment.org/
Going forward
CWW and GOES will be engaging with these themes throughout the UN Decade of Ocean Science.
The overall aim of the Decade of Ocean Science is to 'support efforts to reverse the cycle of decline in ocean health and gather ocean stakeholders worldwide behind a common framework that will ensure ocean science can fully support countries in creating improved conditions for sustainable development of the ocean.'
We totally agree! And shall be reporting more throughout the coming months.
For more information on what the European Marine Science Community is focusing in on see the link to the Navigating the Future V Report Here: http://www.marineboard.eu/navigating-future-v